Opening Titles
Pipkins had four title sequences with different music during its nine year run.

The first, used when the programme was known as Inigo Pipkin, featured Mr Pipkin in his shop and a still montage of he and Johnny setting up a puppet show with Hartley and Tortoise. The song was sung by Jackie Lee who also sang the song which accompanied ATV's "The Adventures of Rupert Bear". Both were released as singles.

Following George Woodbridge's death there was a short while in 1974 when a generic title sequence featuring just the puppets was used. After this came some filmed opening titles of Johnny and the puppets out in the Pipkins puppet van (the lyrics to the song which accompanied these titles are included in the script for "The Toy Makers"). The title song was re recorded using children's voices.

The next titles featured Hartley in a puppet booth, but gradually being prized out of the the booth by stills of Pig, Tortoise, Topov and eventually the Pipkins logo. Michael Jeans, the shows producer and director, had wanted to use Chris Hazell, who wrote all the songs and incidental music, to write the title music since the shows start. Commercial considerations on the part of ATV prevented this. However at this point he managed to persuade the powers that be that Chris should write the new theme. And so the music changed.
​
The final title sequence used was again filmed, and featured Hartley following a bouncing ball across green fields and the town. At the beginning of each episode, the ball arrive in the Pipkins yard and usually hit Hartley and knocked him over!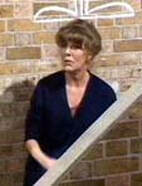 Sue Nicholls
Sue Nicholls is perhaps best known for her portrayal of Audrey Roberts in Coronation Street. But in 1980 she was a regular in Pipkins, where she played their next door neighbour, Mrs Muddle. She has fond memories of working on the programme and often speaks of her delight in working alongside "a tatty hare"! There is an interview with Sue as an extra on volume one of the DVD.
​​
---
Charles McKeown
Charles McKeown played Charlie the dustman, a guest character. Charles went on to write for Terry Gilliam with 'Brazil' and 'The Adventures of Baron Munchausen'. He appeared in 'Fawlty Towers' and 'Monty Python's Life of Brian' and many others.
---
Billy Hamon
​Billy Hamon is an actor who wrote scripts for Pipkins. He appeared in one episode - Hartley and the Lamp - as The Genie. He went on to write scripts for, amongst other programmes, Eastenders.
---
Pipkins On DVD and Video
Five DVD's and a box set have been released by Network DVD and are available from all good shops or online or from Amazon or Network direct. Click
here
to go to the Network site. You can see more about the DVD's on
Nigel Plaskitt's
website.
Network also released a DVD called 'Look Back' and ITV 60 which have one episode of Pipkins on them.
In 1990, Watershed Pictures released a series of three home videos, each containing a selection of classic children's programmes from the 1960s, 1970s or 1980s. The 1980s volume, (cat. no. WSP 1014) contained a clip from "The Toy Makers". The title has now been deleted but copies do turn up occasionally at car boot sales, etc.
Production Trivia
Studios A & B at ATV Elstree (now BBC Elstree) were our main base but studios C & D were also used on occasion. Studio B now houses sets for Eastenders
Locations were mainly around Elstree in Hertfordshire
Uncle's Hollow was variously at Pinks Farm near Shenley, Panshanger Airfield and the grounds of the house in Mill Hill that Patrick McGoohan lived in whilst making 'Danger Man' and 'The Prisoner'. His telephone box was located at various convenient boxes in the area. It has been said that Uncle was Hartley with a straw hat and a smock on but in fact he was a completely different puppet.
The River Colne by the Green Dragon pub in London Colney and The Broad Colney Lakes Nature reserve nearby were also used. It was here that Hartley visited the dentist who appeared to live in a house next to the Green Dragon but had a surgery remarkably similar to London's Royal Free Hospital!
Most shopping trips were done in Shenley Road, Borehamwood and Topov's bus rides were from Edgware Underground Station and bus depot on the Northern Line.
The programme also visited Buckingham Palace, Oxford Street and the exotic location (for us) of Southend where we shot on the beach and the train on the pier.
Michael Jeans directed the majority of the programmes but occasionally others took over. We had two 'Trainee Directors' - Glynn Edwards and Chris Tookey - Chris is now a journalist and Glynn is a Punch and Judy professor.
We recorded two programmes in one day shooting one section at a time and the footage was edited after, a luxury not afforded to every children's programme. The narration was pre recorded by Pete Wernham and played back to us in the studio. We had three days rehearsal for each studio day - one half day being used for pre recording narration etc. Our rehearsal rooms were more recently used as a studio for Holby City.
For most of the run we would spend a week at the beginning of the series filming inserts on 16mm film on location. On the last series we used a new 'portable' video camera - not portable by todays standards. Though the cameraman could carry it on his shoulder it came with a truck and a cable attached to a huge video recorder!
​
From Sue Taylor:
The dubs were fascinating. Lots of Sound FX - particularly Topov's whoosh. I seem to remember they used that for Gonzo in The Muppet Show later.
Very many thanks to Nigel Plaskitt for this information.
© 2013 Nigel Plaskitt
In 1976 pilot Norman Whisler pictured with Tortoise in the episode 'Tortoise the Fastest' filming at Panshanger Airfield in Hertfordshire. Thanks to Dave Whisler for the photo